Helping Hugs Inc for Haiti
Life Expectancy
This couple is the oldest couple in the village. They are actually in the mid-60s. The life expectancy is about 65.
WELCOME TO Helping Hugs, INC
2022 St. Joseph Church, Côtes-de-Fer, Haiti celebrates the Feast of St. Joseph
Our mission is to help distressed communities in need of material, education, or medical supplies.  Our goal is to promote healthcare, education, small business development and spiritual support.  At the present time, we are concentrating our efforts in the city of Côtes-de-Fer, Haiti and surrounding mountain villages as a result of the devastating earthquake which occurred in 2010 and hurricane Matthew in 2016.
Helping Hugs, Inc. and St. William Catholic Church have joined the Parish Twining Program of the Americas and are working closely with Father Islaire, pastor of St. Joseph Catholic Church in Côtes-de-Fer.
Of School Supplies, Medical Supplies, Musical Instruments, Toys and School Uniforms
in Donations/Fundraisers in support of St Joseph Parish and the community of Cotês-de-Fer, Haiti
Received Educational Scholarships in Cotês-de-Fer, Haiti
Our mission is to help distressed communities in need of material, educational, or medical supplies.
As a result of our medical mission trips, we have identified that many of the illnesses can be traced to the lack of clean water. Therefore, Helping Hugs has initiated "Clean Water" projects to help improve the health and hygiene of the people of Côtes-de-Fer and the surrounding communities. In 2021 we drilled our first well in the community of Mount Blanc where there was no source of clean water. The well will serve approximately 640 people. A second well was started in the community of Boca Moran and will be completed in January of 2022 serving more than 500 families. We are currently collecting funds to drill a third well in Saurel which is planned for completion in 2022.

Attempting to break the cycle of poverty through education, Helping Hugs, Inc. sponsors 3 primary schools for children of Côtes-de-Fer and surrounding mountain villages. We also provide scholarships for students to attend the local secondard school. Many of the families cannot afford to give their children an education and the communities are grateful for the sponsorship.
Repairs and improvements were made to 9 of the 10 remote chapels of St. Joseph Catholic Church since 2018 and were completed in 2021. Many of these chapels were destroyed or severely damaged in the earthquake of 2010 and hurricanes in 2016. Church and community events can now be attended without the concern of adverse weather conditions.
During our last medical mission trip, our team treated over 1000 children and adults. These medical mission trips have identified that major medical conditions exist in the communities as a result of using non-potable water for drinking, food preparation and personal hygiene. Hypertension was also identified as a major medical problem in the population. This vital information has lead Helping Hugs, Inc. embark on a clean water program and establish a program to treat hypertension on a year round basis in the communities we serve.

.

St. William Catholic Church
St. William Catholic Church is located at 2300 Frederica Road, St. Simons Island, GA. The church entered the Parish Twinning Program of the Americas with St. Joseph Catholic Church of Haiti in 2008.
Helping Hugs'
Events & Projects
Our mission is to help distressed communities in need of material, educational, or medical supplies.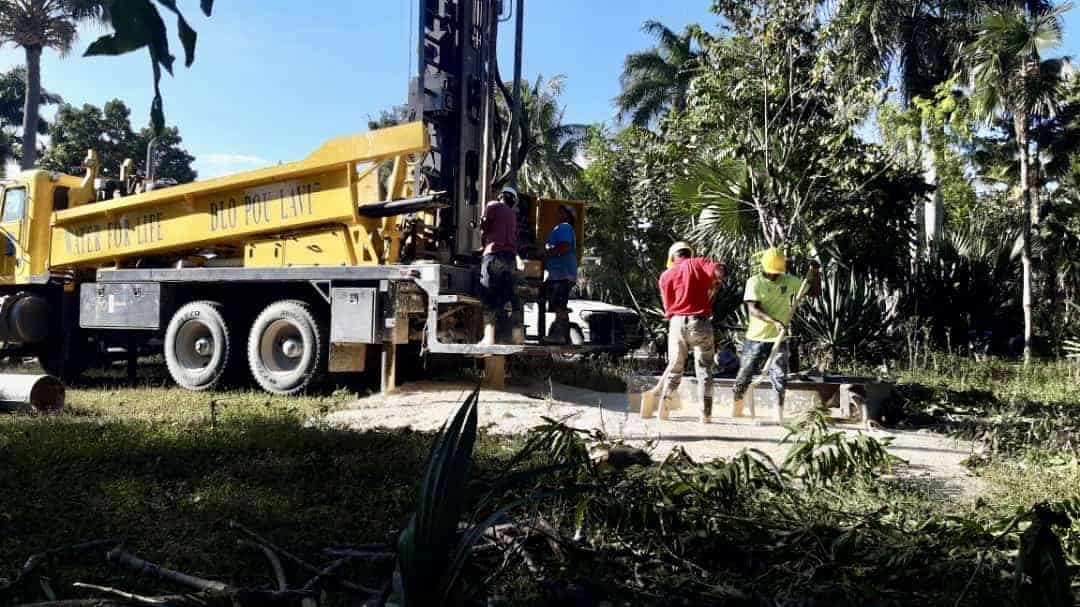 Clean Water Wells
A source of clean water is important to the health and well-being of the people in Haiti. We have worked diligently over the past few years to deliver clean water to residents in the Cotes-de-Fer area of Haiti and nearby communities. For the past 2 years we have embarked on a program to bring a source of water to communities where none exists. Our first well was drilled in the community of Mount Blanc. Water was found at a depth of 810 ft. A pump, solar panels and a storage tank have been installed to assure a continuous supply of water for the 640 residents of that community. A second well was completed late last year which will bring a continuous source of clean water to more than 500 families in the community of Bouca Moran. We are currently raising funds for a third well to be drilled in 2022. We need a few more donations to reach the anticipated cost of $38,000 so that drilling can begin in the community of Saurel.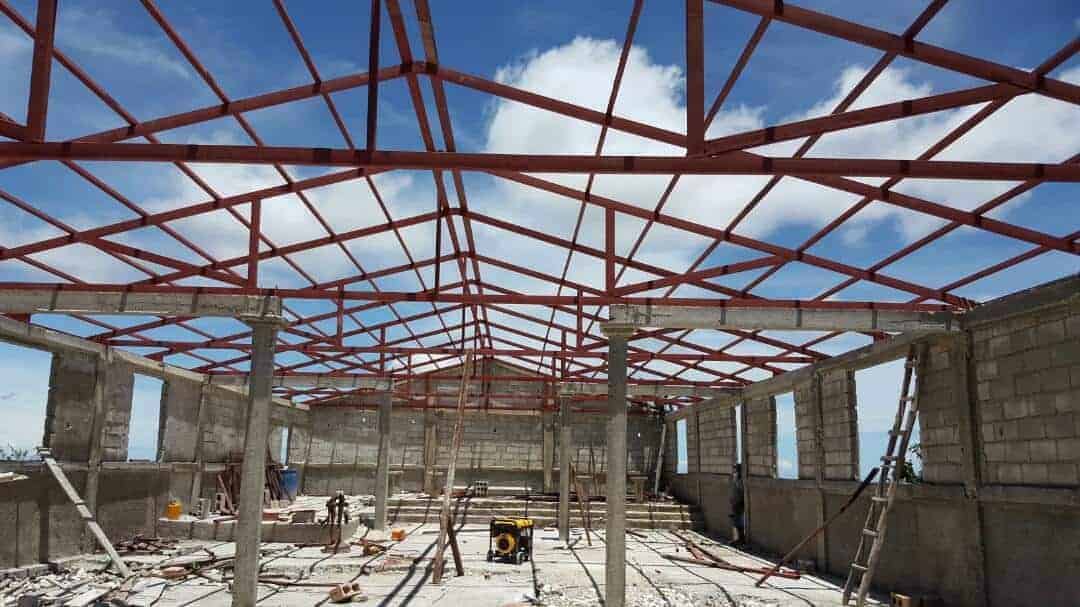 NEW CHAPEL ROOF
One of our goals was to repair and complete the construction of the 10 chapels under the care of Father Islaire Faustin damaged in the earthquake of 2010. Depicted above is one of the major projects completed in 2018, a new roof for the St. Lawrence Chapel. - it is now complete. Parishioners in Bouca Moran, Haiti will now be able to attend Church and other community events without the concern of adverse weather conditions. 2021, saw the completion of major construction work on the last two chapels and the beginning of putting the final touches to this 10 year project stemming from the 2010 earthquake. The painting of the chapels will provide an attractive, protective coating. Thank you for your donations that have restored the chapels for their respective communities.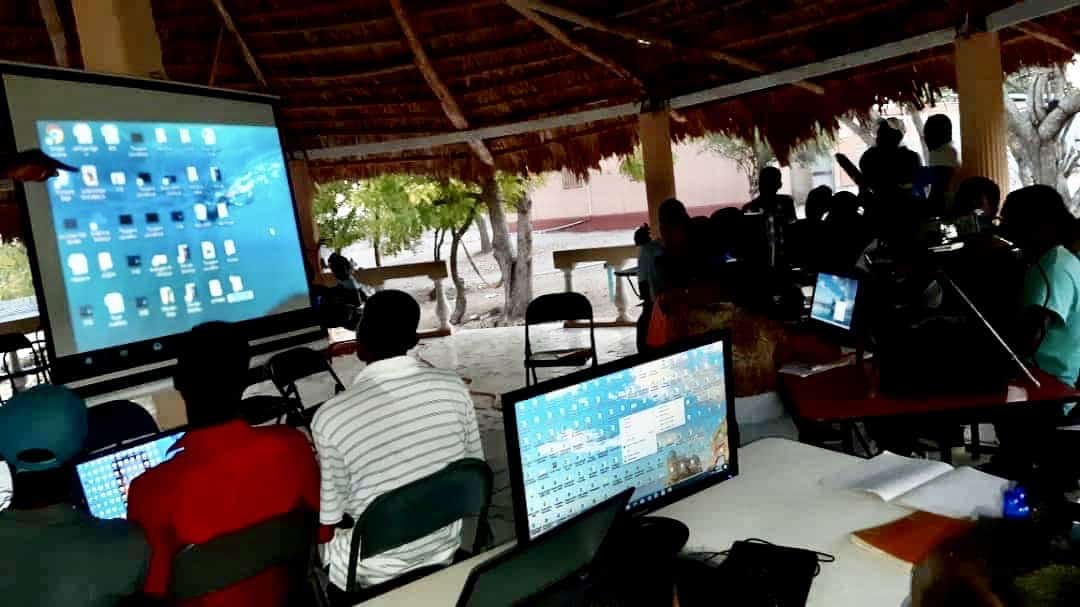 GOALS FOR EDUCATION
THANK YOU! Getting an education in Haiti is difficult but because of you most Children can go to school and look forward to getting a job to help support their family. Helping Hugs, Inc. supports 3 schools with over 320 children and we were dependent on your support for the 2020 - 2021 School Year. The cost to operate the schools for the 2021 - 2022 school year is estimated to be $26,000. Most families do not have the money to send their children to school. For many children their only meal for the day is the one they receive at school. We are pleased to announce that our "Education Campaign" which began on April 5th and ended on May 31st has achieved 100% of it's goal. Because of your support, we will be able to provide an another year of school for children who otherwise would not be able to attend school. If you missed our campaign, it is not too late to help. We have an ongoing effort to upgrade the facilities. We just had our first graduating class in computer science. See our June 2021 Newsletter for more information. We would like to begin working to provide a facility where we can begin to teach a trade to students in the last few years of school. Teaching them a skill will allow them to be a productive person which is essential in breaking the cycle of poverty. Please visit our "Donation Page" and make a difference if you would like to help transform a child from a life of poverty to becoming a productive member of their community.
$26,000 GOAL - Thank you!