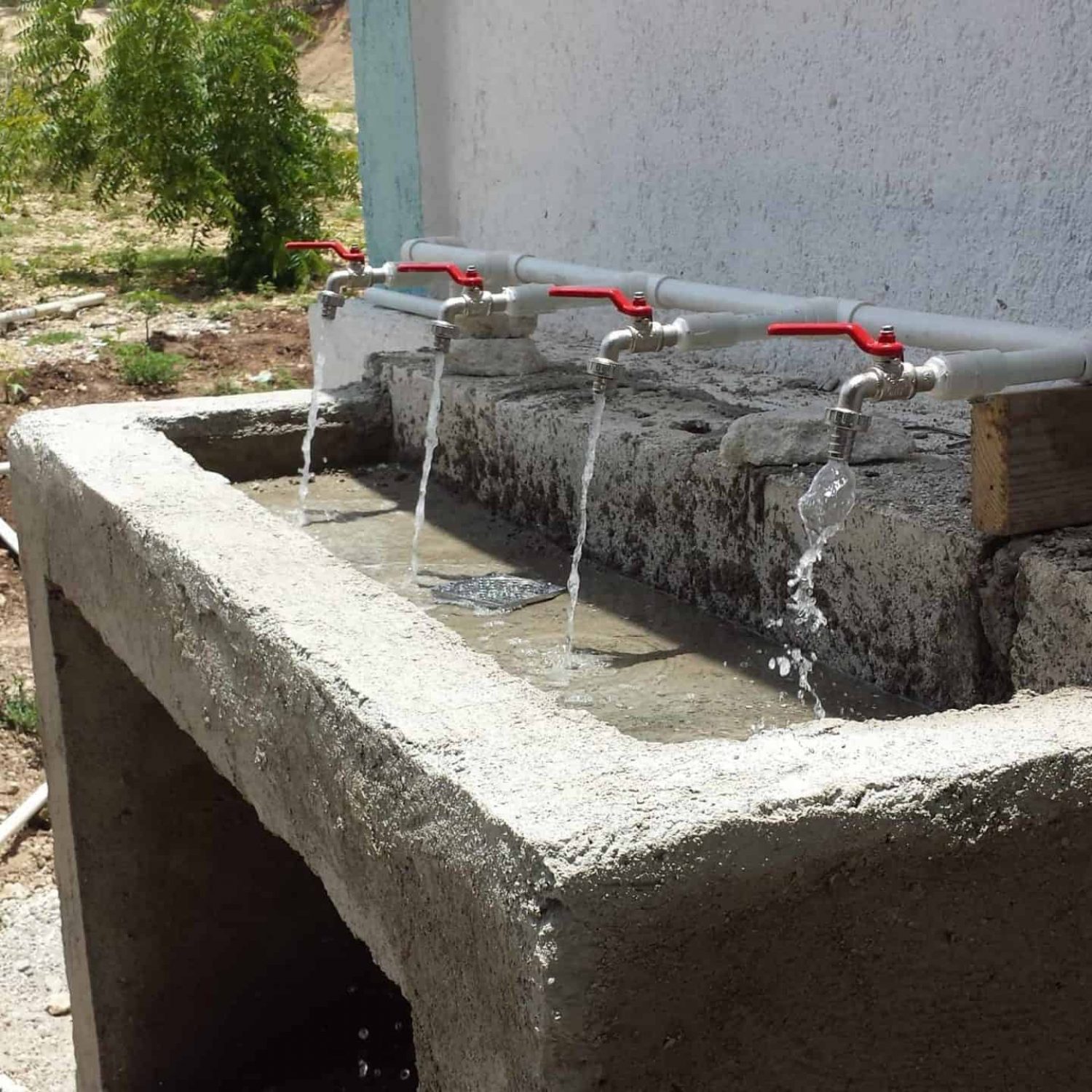 As a result of our medical mission trips, we have identified that many of the illnesses can be traced to the lack of clean water.  Therefore, Helping Hugs has initiated "Clean Water" projects to help improve the health and hygiene of the people of Côtes-de-Fer.
Water is basic to life. For those in Haiti it is a daily struggle to first find a source of water and then haul that water back to their home. For many, that source of water is the nearest stream or river. For others it may be rain water collected in a cistern at home or at their local parish. Unfortunately, Haiti is currently experiencing a severe drought leaving the streams, rivers and cisterns dry. Haiti frequently goes through cycles of wet and dry periods except, this year, the rainy season was not wet at all.
If finding water was not in itself a difficult problem, consider that most of the water is not fit to drink. The results are illnesses that we do not experience here in the US. Water borne diseases are a major health issue in Haiti. Many areas of Haiti are currently experiencing Cholera outbreaks. Other illnesses attributed to contaminated water are E.Coli, Typhoid, Hepatitis A,B,E, Salmonella Typhi, Meningitis, Worms, Amebic Dysentery and more. While many NGO's in Haiti are working to combat this problem, there is much ground to cover.
Helping Hugs' medical team recognized this problem early in their visits to Côtes-de-Fer and reported back to our organization. That is why, in 2016, we undertook and completed our first water project, for the St. Joseph Parish and the community of Cotes-de-Fer. Helping Hugs, Inc. funded the project which was built by World Water Relief, a water purification company founded by Dr. Kevin Fussell, a local practicing physician. The system uses a government supplied source of water, which is not safe to drink, and through a series of filters renders it potable. It is then stored in large tanks and distributed on a schedule to those in need. Our medical team has indicated that they have seen a decrease of medical issues related to clean water in this area.
Continuing our efforts 2 cisterns were built to increase the available water supply in areas where it is scarce.  We have also built 2 water purification systems to supply potable water to communities in an effort to reduce a multitude of health issues associated with contaminated water.
Our latest efforts are directed to drilling wells in communities where a source of clean, potable water does not exist.  A history of our efforts are detailed below.
We appreciate the support you have given to the people of Haiti in supplying some of their basic needs. Your donations are greatly appreciated. Together we are making a difference. Let's continue to work together to bring safe drinking water to the communities served by our twin parish, St. Joseph.
                                                     Update
On April 22, 2022 the solar water pump and solar panels were installed on the well at the mountain village of Boukan Moran making clean water available for the first time to at least five hundred families.  The water was tested, found to be safe and is now available to the community. 
Eleven-year-old- Touki can now attend school and play with his friends instead of gathering water each morning from a contaminated, muddy, nearby stream.  Mom can now cook with water that is clear, odorless and tasteless and dad has ample water for the livestock.  Touki and his family are grateful to YOU, the generous people who made this happen.  They will keep you in their prayers and hope you will do the same.
Construction of a well at Mont Blanc began in February and was completed in April giving the families of Nativity of our Lord clean, safe water for the first time in their lives. Due to the elevation of this mountain community, the drilling reached 830 feet before safe water was found. Due the price and availability of fuel, the well pump is solar powered. Over time, operational cost will be minimal compared to gas.
Drilling for a second well, this one located at the St. Lawrence chapel in Boukan Moran, began in October. Due to gang violence and road closures, the solar panels needed to power the pump, did not arrive before year end to complete the project. The project will be completed in 2022.
After the Boukan Moran well is complete there will still be six chapels without clean, safe water. Plans are to do at least one well per year going forward.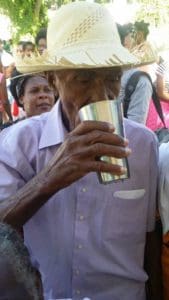 A second cistern at St Lawrence chapel in Boukan Moran was completed early in 2020 giving a second community clean rainwater for use when it is not raining. The systems are designed to remove dirt and particles from the water before going into the cistern. While these systems help, they only provide water when it rains. When the rain ends the community quickly drains the reservoir.
During the summer Father Islaire suggested we consider a well for the remaining chapels. Water For Life, a non-profit located in Haiti, was contacted to assess the possibility of water at five chapels. The assessments were all positive and the decision was made to drill the first well at Nativity of our Lord chapel in Mont Blanc in early 2021.
The plan for this year was to build 2 cisterns to increase the supply of water in areas where water is scarce and the nearest source is 1 to 2 hours walk away.  Our first cistern pictured below is has been completed in the mountain community of Platon.  The 47,500 gallon tank will provide water to the local school, Sacred Heart Chapel and surrounding population especially during the dry season. A plan was implemented to utilize current good practices to improve on the efficiency of water capture and cleanliness of the rainwater to assure it is safe to drink.  Once the water is in the tank, practices are put in place to maintain the safety, cleanliness and drinkability of the water captured. 
Completion of the 2nd planned cistern for the community of Bouca Moran was delayed and will be completed in early 2020.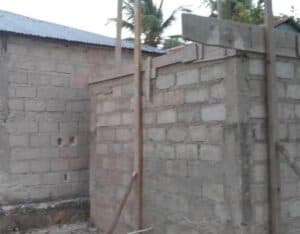 Cistern Construction Completed at Platon
The community continually prays for rain to fill the 47,500 gallon cistern.