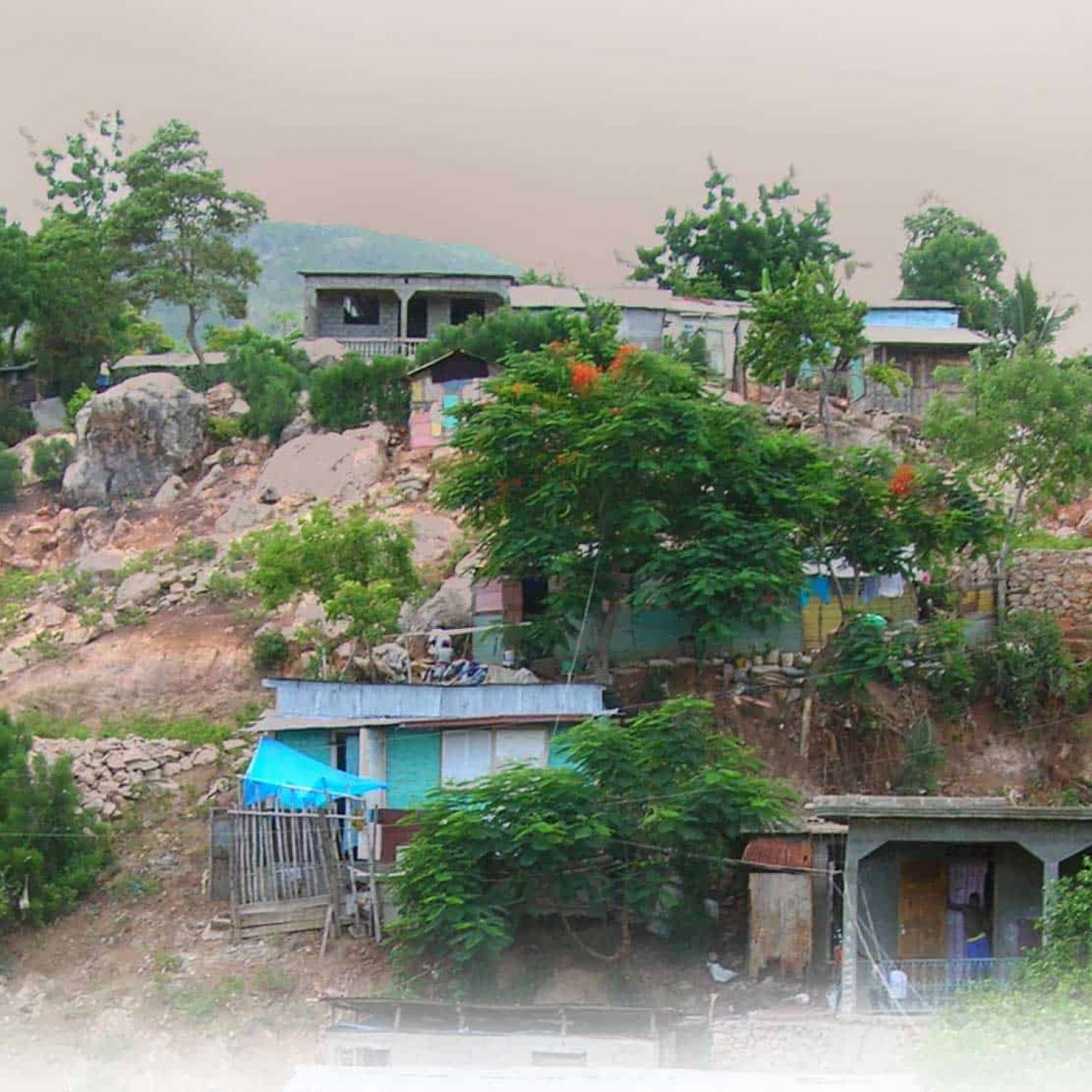 Poverty, natural disasters and lack of resources have left Haiti communities in dire need of outside support. Helping Hugs supports rebuilding through construction projects, small business encouragement and annual shipments of goods including personal care items, sun glasses, eye glasses and medicines to name a few…
The hurricanes and earthquake of past years have left the infrastructure of the Cotês-de-Fer area of Haiti in desperate need of repair.  During the past two years we have helped rebuild 10 homes and supplied building materials to some of the 10 chapels and St. Joseph Church under the direction of Father Islaire Faustin.  In July of 2018 we provided the funds for a roof at the St. Lawrence Chapel.  Parishioners can now attend Mass and community events without the fear of inclement weather interfering with their activities.  
EDUCATION BUILDING/RECTORY
We're delighted to report that the fundraising for the Education Building/Rectory has been completed.  Your generosity has enabled Father Jude to make this building the focal point of a compound at the top of the hill in Côtes-de-Fer.  The building itself contains multiple bedrooms and bathrooms, a huge kitchen eating area, chapel, sitting area inside and outside, and a storage area. 
If you're wondering what happened to the second story on this building, Father Jude explained that the configuration would be too dangerous in case of another earthquake and that it would be too hot.  Instead, he has developed the compound consisting of an outdoor kitchen; a cistern for the collection of water; a three-room school; a garden area and a raised, open-air, thatched roof rotunda that is quite comfortable for meetings when the gentle breezes blow off the ocean.  We have contributed to the construction of all of the outbuildings, except the school.
Annual Shipments of Goods
Thank you! Your generosity helped us send over 1900 pounds of equipment and supplies this year for St. Joseph parish in Haiti. Men, women and children will enjoy ditty bags of personal care items, sun glasses, eye glasses and medicines.  Children will delight in new dresses and shorts hand-made by the Dorcas Group of the First Baptist Church of St. Simons Island, as well as donated uniforms from St. Francis Catholic school.  Adults will appreciate newly sewn aprons and utility bags from the Dorcas Group.  Contributions were also made by the Brunswick Chapter of The Links, Holy Nativity Church and the water aerobics class at The Club.  Father Islaire is grateful for these items which he uses as rewards for youth participation in the choir, liturgical dance and alter servers.  Our nurses will use the ditty bags during the upcoming medical mission trips.